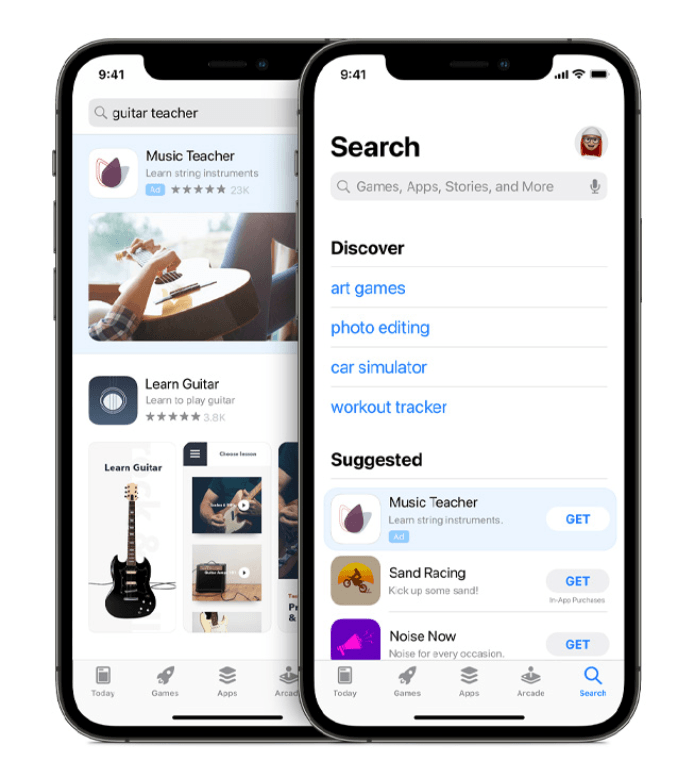 Apple Search Ads is now the second-largest network for user acquisition on iOS, according to the Singular ROI Index 2023 released today. That's by comparison with platforms using analytics from SKAdNetwork. But smaller networks tied to Google and Meta are growing too. Let's take a closer look. 
Ad spending on iOS continues to grow
When considering dollar volume and the number of conversions, Apple Search Ads is now the second-biggest ad network for iOS for app marketing. Brands which may have previously struggled with new attribution methods learned to use Apple's privacy-focused SKAN and boosted spending on iOS. Following a drop in 2021, Apple ad spending jumped from 36% in January to 47% in December. 
Among the reasons for the growth in iOS ad spending are key markets such as North America and Western Europe, but also Apple's growing global market share which is now at 22%. iPhone users also tend to spend more than Android users which makes them more attractive acquisition targets. 
iOS versus Android ad spend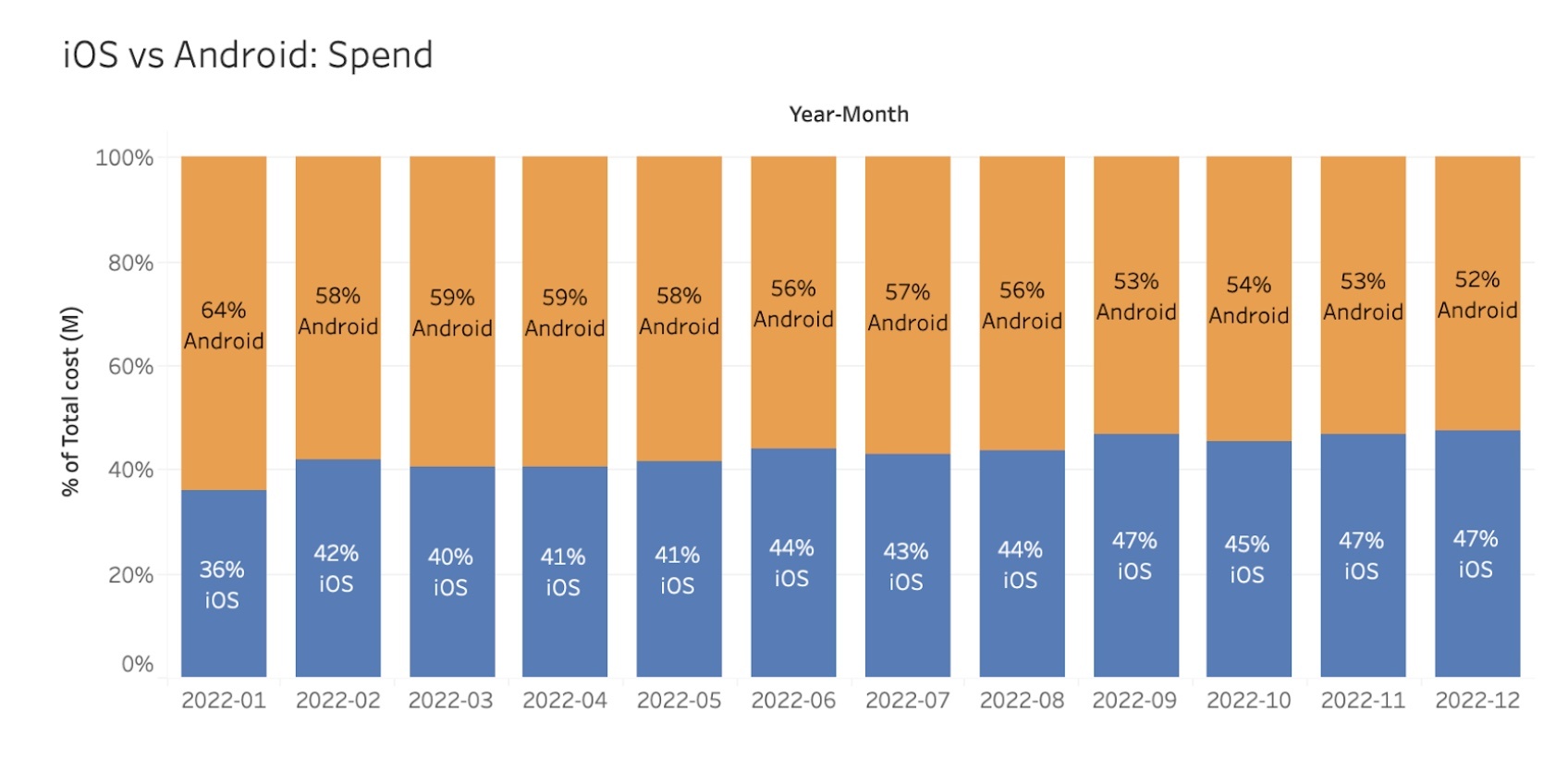 Source: Singular
Brands using Appel benefit from managing a high-intent search marketing platform in Apple Search Ads and operating app advertising as a first-party data operation, enabling better targeting while ensuring privacy.
"2022 saw Apple Search Ads spending reaching record-high for apps across different categories," said Emre Kavaloglu, Head of Marketing at MobileAction & SearchAds.com. 

"This year will be no different as advertisers can now create more relevant ad experiences with custom product pages and tap into new ad placements introduced by Apple in late 2022."
Smaller ad networks may disrupt Meta – Google duopoly
While Meta and Google are still massive given their installed base and global scale of audiences and advertisers, smaller ad networks are challenging the duopoly in the era of privacy. The top ad networks by percentage growth in ad spending on Singular were:
Moloco
TikTok for Business
Twitter
Google Ads
Unity Ads
AppLovin
Snapchat
ironSource
Apple Search Ads
Liftoff
Another interesting point from the report is that we seem to have entered a time of persistent, lasting, and widespread loss of deterministic marketing signal. iOS was first; the web and Android are up next. This means a shift to hybrid measurement which includes a unified data infrastructure, multiple measurement methods and reporting and insights that serve various purposes drawing on first-party data, GAID and Privacy Sandboxes as well as media mix modelling. 
Measurement is turning hybrid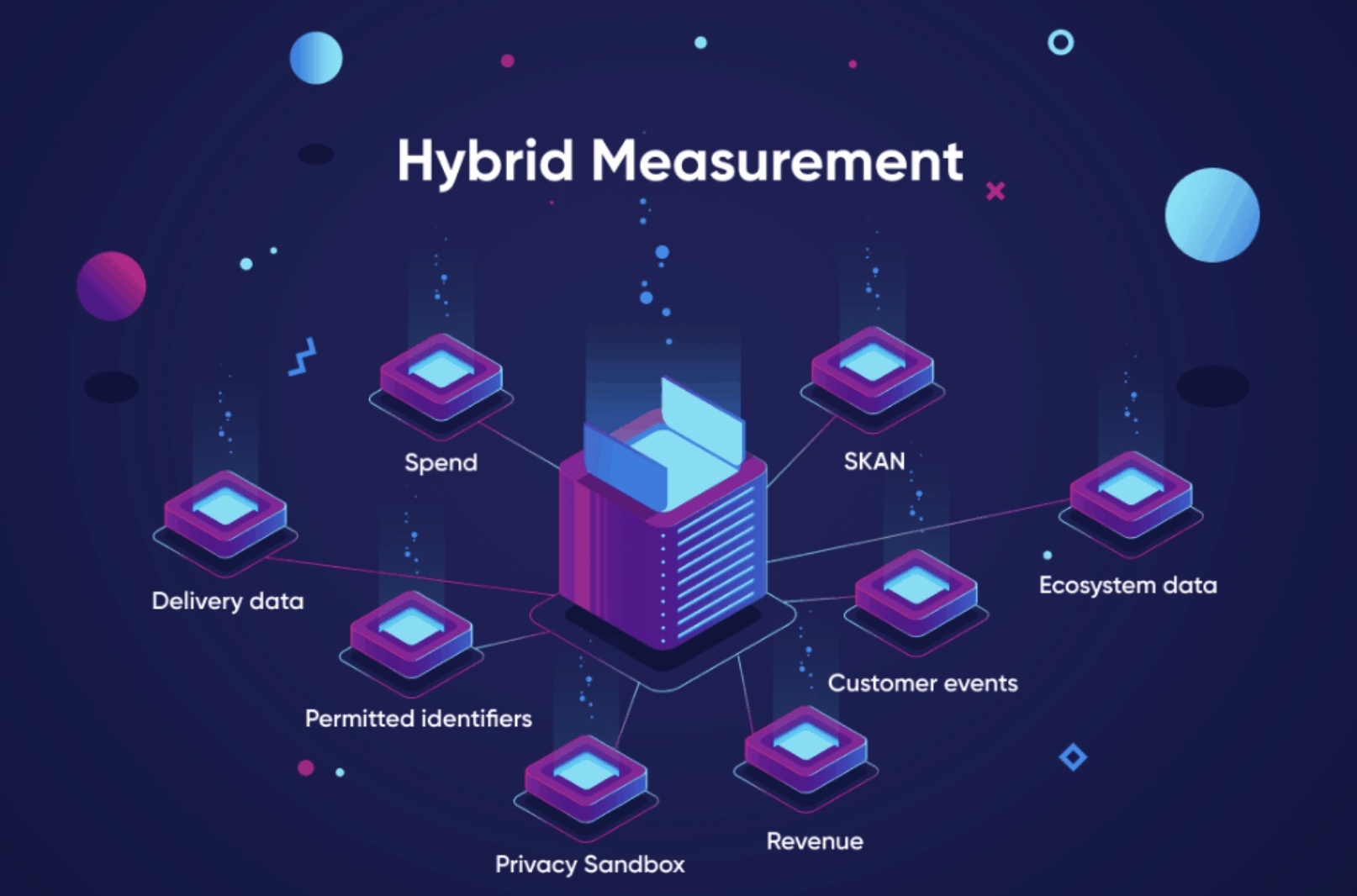 Source: Singular
Key takeaways
Apple Search Ads becomes the second largest network for user acquisition on iOS
Apple ad spending jumped from 36% in January to 47% in December
Smaller ad networks begin to challenge Meta and Google duopoly