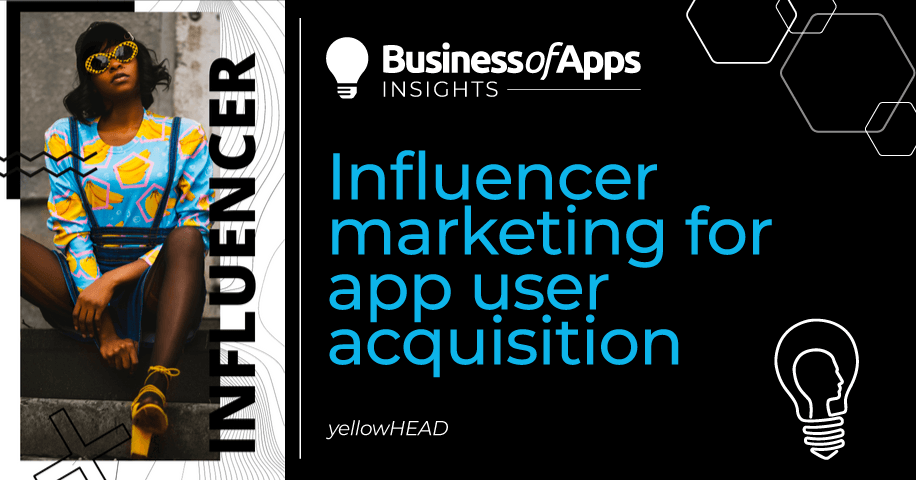 Today, influencer marketing has become crucial to improve an app's user acquisition strategy. Influencer marketing plays a vital role in raising brand awareness and improving market reputation. There is a reason influencer marketing continues to get more practical and popular in the digital marketing space.
Marketers believe it is the perfect way to attain and retain your target audience. So, if you plan to scale up your app's user acquisition strategy, you can leverage influencer marketing. In the 2023 State of Influencer Marketing report, data shows that influencer marketing spending reached a whopping $4 billion by the end of 2022.
In the grand scheme of things, it represents a 20% increase from the last year. The truth is that the majority of digital marketers understand that content that stems from influencer marketing is highly effective for brands. You'd be surprised how fast you get the attention of new users and maintain consistent engagement through influencer marketing.
Google highlights that over 70% of Gen Z find YouTube influencers reliable and trustworthy. Additionally, over 40% of the digital native generation prefers social media over Google Search. In this case, brands can tap into this trust to garner support for a newly launched gaming app.
Why leverage influencer marketing for an app's user acquisition strategy?
It's no rocket science how influencer marketing can work wonders for your mobile app's user acquisition strategy. Here's the thing – when new users see a familiar name they trust to use a mobile app, it is bound to influence them to use it. Without influencer marketing, brands cannot even hope to render such direct influence on potential users.
The more the influencer engages with a mobile app – the more attraction there will be. Of course, the idea is to boost the conversion rate. Through influencer marketing, new users can see how much the influencer is enjoying and using an app.
Without further ado, let's touch on what makes influencer marketing effective and how companies and brands can use it to transform their app's user acquisition strategy. In the age of mobile apps and social media, it is not easy for brands and businesses to stand out in a competitive and saturated space.
Influencer marketing, however, brings a ray of hope that app marketers can use to get the attention of new users. In fact, executing influencer marketing campaigns has become one of the best ways to boost your app's user acquisition in a short time.
It would be fair to state that influencer marketing is a powerful tool. Brands can use it to expand their target audience reach and consistently improve user acquisition efforts.
Best practices to tap into influencer marketing and boost an app's user base
Influencer marketing is all about collaborating with "influential" online influencers. These online influencer marketers can communicate your marketing message and bring more authenticity to your campaigns.
Brands are often surprised to find out how fast a marketing influencer can help them build a robust and expansive online presence.
Once you build a wider online presence, you can increase and retain your app's user audience faster as part of your marketing goals.
Let's break down the fundamental reasons, benefits, and practices for utilizing influencer marketing so that you can boost your mobile app's acquisition strategy.
Review budget elements
One of the best ways to tap into influencer marketing to boost user conversions and downloads is to review different components of your budget. Remember, you don't have to hire an extremely expensive marketing influencer to make your campaigns work.
Instead, review your budget requirements and components and then figure out what type of influencer marketer will help you gain more users right after the app launch. So, make sure to take into account your budget and opt for a local or international influencer that you can hire rather than solely think about hiring famed influencers with celebrity status.
If you want to garner the attention of a local audience, hire an influencer that can help you get the trust of local communities and communicate the core message about your mobile app. As long as the marketing influencer has a big following, you can communicate with your niche.
Pair together your keyword strategies with search traffic to improve your user acquisition from the app store. When it comes to launching a new app and expanding a user base, the key is to improve the initial impression of users So, make sure your app's quality is top-notch and lives up to market expectations. With this approach, you can also reduce your app's marketing costs.
Create and roll out value-added campaigns
App stores now have a lot of options for users. It makes it all the more important to create and roll out value-added and effective influencer marketing campaigns. This is how you take your app user base to new heights. You can better develop and execute influencer marketing campaigns by improving your understanding of how social media influencer marketing works.
Once you're familiar with the influencer marketing fundamentals, you'll better understand the elements that make your influencer marketing campaign a success. No matter what size and type of mobile app you want to promote, you can depend on influencer marketing to expand your user base. But part of the process is to tailor your influencer marketing campaign to get the attention of a specific audience.
If you develop more than one app in different verticals, it makes sense to get a marketing influencer with a big following. It is the best way to reach out to a wider target audience and execute your influencer marketing campaign successfully.
Figure out "How" you need to collaborate with the influencer
It is not enough to decide to collaborate with influencer marketing – you must focus on a specific stage in your campaign to involve an influencer marketer. You can run a successful pre-launch app promotion if an influencer marketer gets involved at an early stage.
Hire an influencer marketer in the early stages of the app launch to execute influencer marketing campaigns successfully. In the pre-app launch time, the influencer marketer gets more than enough time to find the best ways to increase registration or pre-signs for an app before launch. At this stage, the goal of the influencer marketer is to create a consistent buzz around your app.
Usually, an influencer marketer helps you develop and roll out a campaign during app pre-launch, app distribution, and app post-launch stages. And in each stage, you should be able to count on the expertise of an experienced influencer marketer to expand your user base.
Give influencer marketers creative control
Once you research and assess mobile app influencer marketers, make sure to give them creative control. After all, the influencer marketer you hire will need some creative freedom to come up with new ideas and help you across different stages of app launch to attain and retain a wider user base.
But make sure the influencer marketer runs these new ideas through you before making them part of the app user acquisition strategy. Ensure your brand values and marketing strategy works in tandem.
When you choose a marketing influencer, look for more than their followers. You should also determine whether the influencer understands your values. If things go smoothly, you should be able to measure and track your influencer marketing campaign's success.
Always seek optimized results
Influencer marketing works as well as it does to expand the app user base because it puts you in a mindset to seek optimized outcomes. You want your core message to get across the board and create excitement way before the launch. Communicate your app's characteristics to your user base and see how it reacts to the campaign message. Your influencer marketer should be able to see whether or not your influencer marketing campaign needs some changes to get desired results.
Sure, you want to expand your user base to millions of new users. But you have to be realistic and take baby steps in "how" you communicate with your target audience and how fast you increase your audience. The trick is to maintain authenticity and consistency while running marketing campaigns to form long-term relationships. It will make it easier for you to track, measure, and compare influencer engagement at each stage.
Perspective: Leveraging influencer marketing for your mobile app's user acquisition strategy
Since influencer marketing is an ideal approach to attain and reach out to a new audience segment, you can use it to scale up your entire app user acquisition strategy. In the end, influencer marketing has the power to help you with the mobile app's user acquisition strategy, raise brand awareness, and improve your overall market reputation.
Influencer marketing ensures the long-term success of an app's user acquisition strategy. It has to be effective and unique enough to simplify how you connect and engage with new users. Influencer marketing continues to change traditional notions of "how" you engage with existing users, build brand recognition, and improve an app's visibility.
You can work with marketing influencers to make your mobile apps and marketing channels successful. You can review influencer marketing campaigns and see how so many companies and brands have managed to leverage it for their mobile app's user acquisition strategy.
When you use influencer marketing, you can expect to gain thousands of new users and increase installation rates. Today, YouTube influencers help brands and businesses launch their mobile apps. In some instances, brands that used influencer marketing to expand the target audience for their mobile app rank at the top within a week of launch.
How to make influencer marketing work for app user acquisition strategy?
What does it take to leverage influencer marketing for the app's user acquisition strategy? Take a closer look at "your" target audience and then gravitate towards influencers who can help you reach out to your target audience organically.
You may not be aware of it, but influencer marketing gets underreported in the context of an app's user acquisition strategy. And that's because measuring and tracking the success of influencer marketing is often not precise.
An extensive report highlights that 30% of mobile app marketers now use TikTok as their primary paid acquisition marketing channel. It is no secret that TikTok interconnects with paid advertising and influencer marketing simultaneously. More and more app marketers want to tap into the marketing opportunities by creating solid TikTok campaigns, building dedicated TikTok profiles, and partnering with influential TikTok creators.
Duolingo is one of the most common examples where the company leveraged TikTok-based influencer marketers to display their app features to a wider audience base. Since this influencer marketing initiative, Duolingo has had millions of more app downloads and continues to leverage influencer marketing to gain more app users and improve its overall user acquisition strategy.
Influencer marketing and mobile app user acquisition strategy
It is vital to see influencer marketing through the lens of user acquisition strategy. A successful mobile app user acquisition strategy should revolve around a combination of methods and influencer marketing should be at the center of it.
In short, if you want to gain new users, you'll need to make your app's user acquisition strategy work through influencer marketing. But this requires a lot of agility, objectivity, and transparency. Mostly, you should be able to adapt your UA strategy to changing needs.
Since social media ads on video platforms now create a significant impact, find out "where" and "what" marketing channels your target audiences use the most.
Final thoughts
Ultimately, if you're rolling out influencer marketing campaigns to complement your mobile app's user acquisition strategy, you'll have to see beyond the influencer. Instead, ensure your user acquisition strategy revolves around influencer marketing campaigns to reap the most benefits.
It takes strategic efforts and some professional help to develop a practical mobile app's user acquisition and build a dedicated funnel around generated results across different stages of the influencer marketing campaign.
Influencer marketing has the potential to transform your user acquisition strategy and help you generate more revenue. It is no wonder influencer marketing has become a valuable investment for businesses and brands that depend on mobile apps.
When you work side-by-side with the right influencers at the right times, it becomes easier to define the goals of your target audience, generate high ROI, track engagement, and optimize influencer marketing campaigns to achieve strategic goals faster.