If you are looking for top app developers in the UK to build a user-friendly, high-quality mobile app that showcases your products and services in the best light, this guide will share some tips and tricks on how to find the most suitable one from our carefully-selected list.
The UK is currently the powerhouse of the global app development market, especially for the giant platforms like iOS and Android. So you may want to look into hiring an app developer in the UK to excel in the app market.
Developing a mobile app can be a complex task, and choosing the right app developer is important to maximize results to make your business stand out. So, explore the benefits of working with a top UK app developer and find out the best players in the industry.
The app developer market in the UK
The app development market naturally follows, with plenty of app developers both in London and beyond, another giant hub being Manchester. According to a report by Vision Mobile, The app development industry will be worth more than £30 billion to the UK economy by 2025.
App developers can be found all over the United Kingdom, but the majority is clustered around London. Out of the 8000 app development-related companies, around a fifth of all European app development agencies, 31% are located in the capital, and about 24% of these are situated in the south-eastern part of the city.
Location of app development companies in UK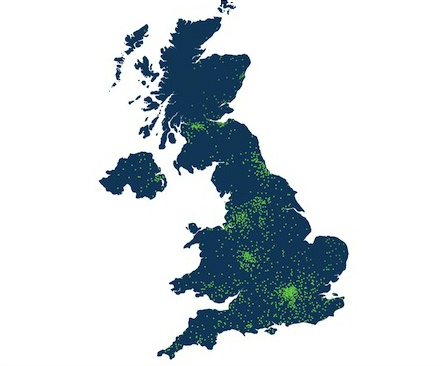 Source: SlashData
It is estimated that, altogether, they employ 380,000 people. However, not all of them are developers, as they include designers, admin roles and marketers involved in the app industry as well.
Why work with a UK app developer?
With the growing popularity in smartphones and mobile applications, businesses are looking to increase retention and conversion rates by making their product available on apps as well. It gives the perfect opportunity to increase brand visibility and impress users by solving specific problems and needs.
So why hire an app developer in the United Kingdom exactly? How do UK app developers stand out in the global industry?
Let's first take a look at the role mobile apps play in the UK, which makes Britain one of the best places to recruit developers.
Smartphone users in the UK have increased rapidly in recent years, reaching 93% in 2022. A year prior to this, users in the UK spent an average of 4 hours using their smartphones on a daily basis, with 57.6 million being active social media users as of February 2022.
The United Kingdom is therefore home to one of the most skilled developers, offering a diverse number of talented individuals with expertise in app development. Moreover, around 59.8 million residents speak English. So, because you would want to target a wider user-base, you can benefit from UK app developers who are fluent in one of the most widely-spoken languages in the world, to take your app to further heights.
Not only will communication be easier, but the diversity that comes with hiring an app builder in the UK means that you are highly-likely to find experts with a variety of skill sets and know-how. The UK is a multicultural country, widening the plethora of expertise even further, and offering businesses around the world a sea full of professionals to help develop top tier mobile apps.
How much does hiring a UK app developer cost?
Globally, an iOS mobile app development price tag is in the ballpark of $28,000. For Android, it is usually around $23,000, and $18,000 for a Windows phone OS.
The UK has some of the best app developers in the world and, thus, costs can be close to the global average. According to the app development price calculator, a single platform app can cost £38,000, while a two-platform app can reach up to £42,000. These costs are calculated for developing an app from scratch, with a multilingual interface, a user account, in-app purchases and a custom UI design.
The amount a developer charges per hour also comes close to global sums. Below you can find a graph for the estimated minimums and maximums you can expect to pay hourly for an app developer to work on your iOS or Android app.
Median cost of mobile app development in select regions worldwide, by platform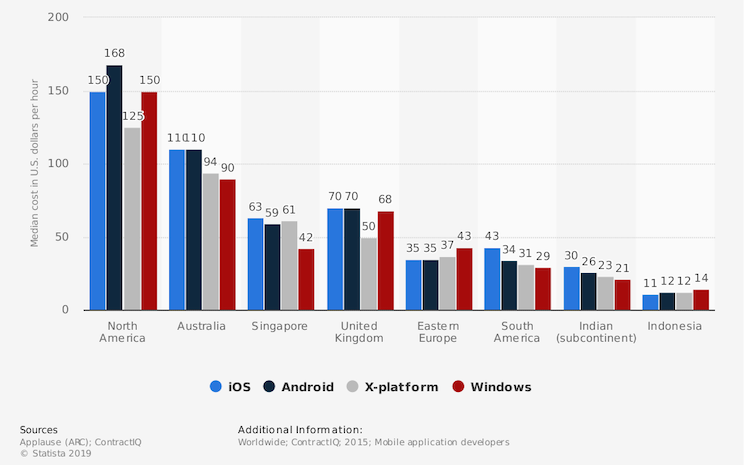 Data source: Statista
In essence, you want to pay for quality. Not only are some of the best app developers in the world found in the UK, but even many US firms have offices in the country that operate there and raise the average.
Having had a glimpse of the cost and skills of the app developers in the UK, how do you go about choosing the right one?
How to choose the top UK app developers
In order to choose the best app developer in the UK, you can dive into researching available developers and set up interviews with the ones you find could be a possible match to work with. In this interview you can find out about their skills and expertise, while they learn about your business and mobile app objectives.
When you start researching, make sure to look out for the following:
Review their portfolio
Review their portfolio, not only to see how many apps they've made and how successful they have been, but to also understand which industries they have worked for in the past. A niche social network app can have different characteristics and challenges to a single mobile enterprise app. Experience in your specific field of business, and it is just as important as the skills and know-how.
Follow recommendations & ratings
Ask other industry professionals who have launched successful apps to recommend an app developer, or find out who made the most successful apps, if there's an industry benchmark. This can help you select app builders that have proven expertise in what they do, and you can trust that they are likely to deliver quality work.
Top UK App Development Companies:
Top UK app developers
Understanding the opportunities and advantages the current app development market in the UK offers, you may now be more convinced to hire a UK app developer. Working with a UK app builder will allow your mobile app to reach a wider user-base, with the help of highly proficient individuals in the industry.
We have put together the top app development companies and app developers, with offices in the UK. We have compiled the list that combines a mix of budgets, skills and expertise that will suit your mobile app and secure the long term success and sustainability of your business.
List of mobile app development companies in the UK
Global Tech Partner for Digital Transformation and Software Innovations
| Founded | Employees | | Social | Traffic |
| --- | --- | --- | --- | --- |
| 2011 | 201-500 | | 43k+ | 43k+ |
Jelvix is an IT consulting and software development company with over 10 years of experience and development centers in Europe and America. Jelvix's most prominent clients include Samsung, KIA, Canon, Benzinga, Nexus, Auchan, etc.
Learn more about Jelvix