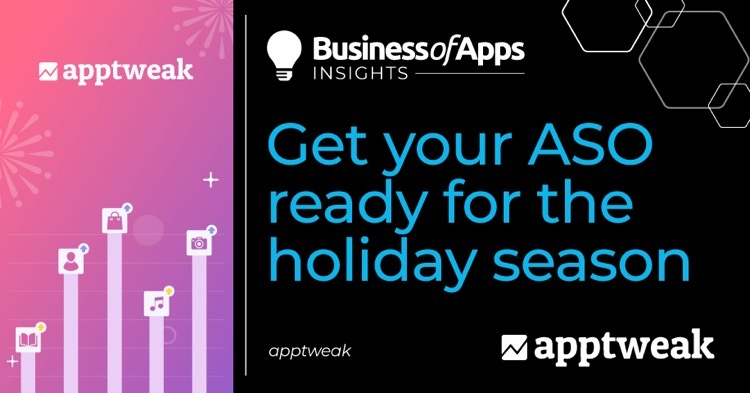 The holiday season is upon us! Whether it is holiday promotions like Black Friday and Cyber Monday or festivals like Halloween, Christmas, and New Year, the holiday period offers a wealth of opportunities to app publishers to optimize their app for the holidays.
As the season gets busier and app developers aim to stand out in the crowd, we share the best ASO strategies to get your app/game ready for the holiday season.
---
Seasonality on the app stores
Seasonality on the App Store and Google Play refers to fluctuations in user behavior, such as traffic, spending, and conversions, caused by time-based external factors. Seasonal events provide a unique opportunity to increase traffic to your app.
For example, customers might care more about deals and discounts around holidays like Black Friday and Christmas, making those events prime opportunities for shopping apps to promote their holiday promotions. Similarly, customers might care more about getting in shape, losing weight, or hiring a coach during the weeks leading up to and following New Years', due to their New Year's resolutions. Travel apps, conversely, may see a downtick in traffic during the winter holiday season when many people are spending time at home with family; but those same travel apps might find organic interest for their product rise towards the end of spring, as the summer season approaches.
How to prepare your app/game for the holidays?
To take advantage of the holiday season and stay relevant to potential customers, follow these best practices for your app/game:
Align with internal teams
The first step in getting your app ready for the holiday season is to align with internal teams. Ultimately, your app listing will be the end destination for various advertising campaigns and seasonal offerings. Make sure you understand which end-of-the-year campaigns the marketing team has planned and align the messaging of the app product page accordingly.
Coordinate with internal teams on the following initiatives:
Are you planning to run any promotions like Black Friday deals or holiday discounts?
Are you updating your in-app features to reflect the holiday season, such as winter environments, visual features, or holiday-themed challenges?
Do you have holiday-specific content to offer, like holiday music or movies?
What has your competition done to stand out in the past during the holiday season? What potential opportunities are there to stand out against them?
Update your app metadata for the holidays
Once you lock down what you plan to offer, consider the changes you'd like to make to your metadata. Incorporating keywords like "Christmas," "Black Friday," "gifts," etc. to your metadata can be particularly influential for shopping apps during the holiday season. 
For example, in anticipation of Black Friday and the holiday season, searches for shopping apps soar each year. People look to shopping apps to score Black Friday deals or find the best gifts for their loved ones. In 2021, we found tech-related keywords such as "watch," "bose connect," "alexa," "gopro," "cricut," and "lego" trending towards the end of the year. Similarly, people turned to Pinterest for decoration or gift ideas and to the photobooks app Shutterfly to purchase personalized photo gifts or greeting cards. Therefore, adding holiday-related keywords to your app metadata will boost your app's visibility in the search results.
Also, keywords such as "Santa tracker" and "Santa clause call" were among the most trending during the holiday season in 2021.
The most popular holiday-related keywords in the US, App Store during the 2021 holiday season
| Keyword | Volume (2021 holiday season) |
| --- | --- |
| Tinder | 93 |
| Spotify | 89 |
| Santa Tracker | 77 |
| Afterpay | 72 |
| Best Buy | 72 |
| Bath and body works | 71 |
| Shutterfly | 69 |
| Sleep sounds | 69 |
| Macys | 69 |
| Zara | 68 |
| Nintendo switch parent controls | 67 |
| Ring | 67 |
| Watch | 67 |
| Santa Clause call | 67 |
| H&M | 67 |
| Shop | 67 |
| Amazon Flex | 66 |
| Bose Connect | 66 |
| Cricut | 66 |
| GoPro | 66 |
| Lego | 66 |
| The Alexa app Echo Dot | 66 |
| Black Friday | 66 |
| Bass Booster | 66 |
| Pinterest | 66 |
| To Do list | 66 |
| Old Navy | 66 |
| Rakuten | 66 |
| Sephora | 66 |
| Wish | 66 |
If you want to see an impact from holiday-related keyword updates, you need to make sure to add the holiday-related keyword to your app title. For example, if you are a music app and you just add the keyword "Christmas songs" in your keyword field, you will not see a big impact. Many other apps that focus on offering Christmas music have this keyword in their app title. Therefore, Apple and Google will find these apps more relevant, ranking those apps higher. If for branding reasons, it is not easy to update your app title, you could still update your screenshots and creatives with holiday-themed content. You could also highlight holiday offers in your promotional text or short description field, as both can be updated without significantly impacting your overall ASO strategy. 
Update your app creatives to capture the holiday spirit
App icons are highly visible assets that you can update during the holidays, as they allow your app to stand out among its top category competitors. Icon changes are particularly impactful on Google Play, where only the icon and copy appear in the search results.
"Words with friends 2" (top) and "Candy Crush" (bottom) icon updates for the holiday season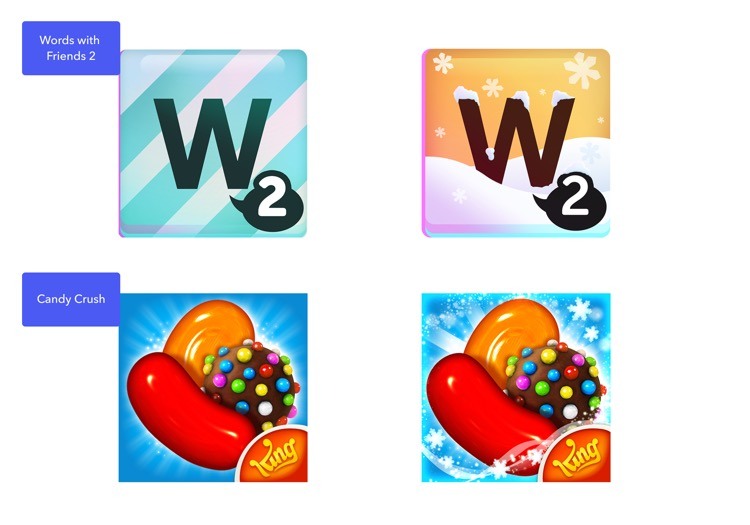 App screenshots should highlight your app's value proposition and key features. Optimizing these images is critical for app installs and standing out against competitors. Screenshots can be a great place to visually update your app with season-specific content. You can completely refresh your creatives like Rowme did during Black Friday and Christmas last year, or you can make subtle changes, like how Starbucks simply updated the featured drinks shown in its first screenshot.
(Left) Rowme updated its screenshots to promote holiday sales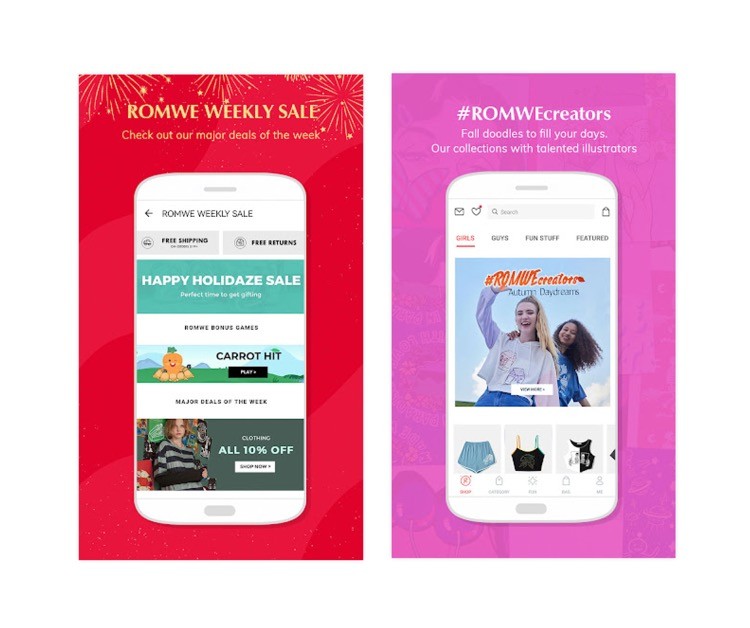 While Starbucks didn't make a huge change to its images, the team switched the featured drinks in their graphics as well as some copy ("This way to holi-yay") to reflect Starbucks' seasonal offerings without detracting from its traditional branding.
(Left) Starbucks updated the featured drinks in its graphics and added a holiday-oriented phrase to reflect its seasonal offerings
Don't forget to update your promo text (iOS). You can change your app's promo text whenever you like (these changes don't require an entire app update) and you're able to promote whatever you like (promo text is not indexed). This can be a great way to increase engagement from customers by promoting special features, deals, etc. Consider adding a sense of urgency to your seasonal update, such as "Countdown to Christmas" or "flash sale for black Friday."
Use in-app events and LiveOps to maximize visibility
In-app events or LiveOps are a great way to increase your app's engagement and visibility on the App Store and Google Play during the holidays. In-app events are timely events within games and apps, such as challenges or competitions, live-streamed experiences, movie premieres, and more.
In-app event cards on Apple rank in the search results. So by including clever keywords such as "black Friday deals" in your in-app event title, you will increase your chances to rank on these search terms. For example, Klarna created an in-app event card promoting Halloween-related deals. Thanks to the keywords included in the metadata, this in-app event ranked high in the search results for the term "Halloween deals."
Klarna ranks on the keyword "halloween deals" after running an in-app event on the App Store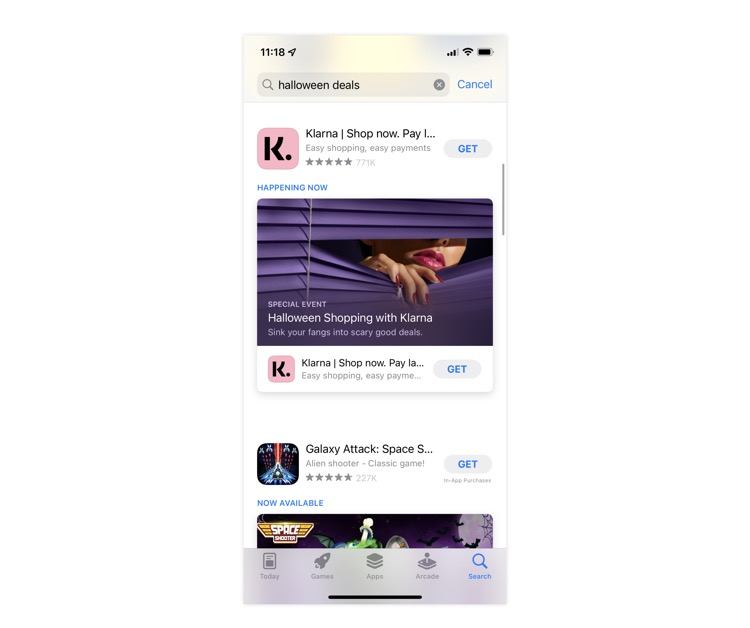 Featuring in-app events can also help increase your visibility in the browse results. For example, during Halloween 2022, Apple featured a collection "Check out these spooky events," highlighting all the Halloween-themed in-app events. We expect Apple to do the same with Black Friday.
Leverage Apple's custom product pages (CPPs)
To optimize your holiday ad creatives, you can really leverage Apple's custom product pages (CPPs) that allow you to create different versions of App Store product pages. With CPPs, you can make sure that your holiday keyword campaigns take users to a specific landing page. You can optimize that page with holiday-themed creatives and copy. So, advertisers can align what users see on the app page with the advertising message they see on promotional campaigns. It's best to leverage CPPs before the holiday season begins to get the most out of it. 
Try to create different custom product pages for different holidays. It is important to test all your custom product pages to find the one that converts the most for your ad group. You can then use it across all the campaigns.
Conclusion
Ultimately, it is up to you and your team to use the best discretion while cultivating your holiday messaging, app store listing, and creative strategies. To prepare for the holidays, we recommend that apps:
Update promotional text to reflect any holiday-related content, promotions, or features your app is offering.
Refresh screenshots and featured images to include holiday promotions and seasonal content to increase chances of conversion. Potentially update your app icon, depending on the strength and priority of your holiday campaign.
Update metadata to include holiday-related keywords in your copy; this is a powerful lever to pull, but should only be done if the content is highly applicable and relevant to your app (and only if it does not detract from foundational, high-priority keywords).
Consider featuring in-app events on your App Store listing this holiday season to increase engagement and visibility.
Make sure your app is ready for increased traffic without crashes or bugs to decrease churn and plan when you will remove seasonal messaging from your product page.
Leverage Apple's custom product pages to convey the same messages as some of the holiday-related campaigns you are running on other channels.
Happy holidays!