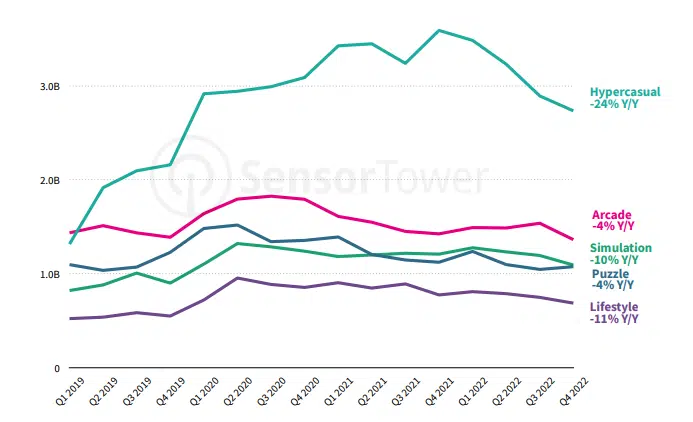 When the first hypercasual game (Flappy Bird) was released in 2013, it wasn't an immediate success. But by the following year interest in this type of lightweight, snackable gameplay had exploded and other developers were taking note. The genre became massive. Last year, Android's share of the genre climbed to a record 57% as the pandemic boosted mobile games to new heights. But the release of Apple's IDFA changes and the economic slowdown, have impacted mobile gaming severely. 
What goes up, must come down
According to the latest State of Mobile Gaming 2023 report from Sensor Tower, the hypercasual genre suffered a substantial decline in downloads following the pandemic. Downloads of hypercasual games dropped 24% year-on-year to 2.7 billion in Q4 2022. Total downloads were 12.3 billion, down 10% from 13.7 billion in 2021. 
Despite all of this, hypercasual is still the top gaming genre by downloads, followed by Arcade, Simulation, Puzzle and Lifestyle. 
And it's not the only genre losing out on attracting new users. Both Shooter and RPG titles saw a massive drop in downloads. 
Mobile game genre downloads and revenues in 2021 and 2022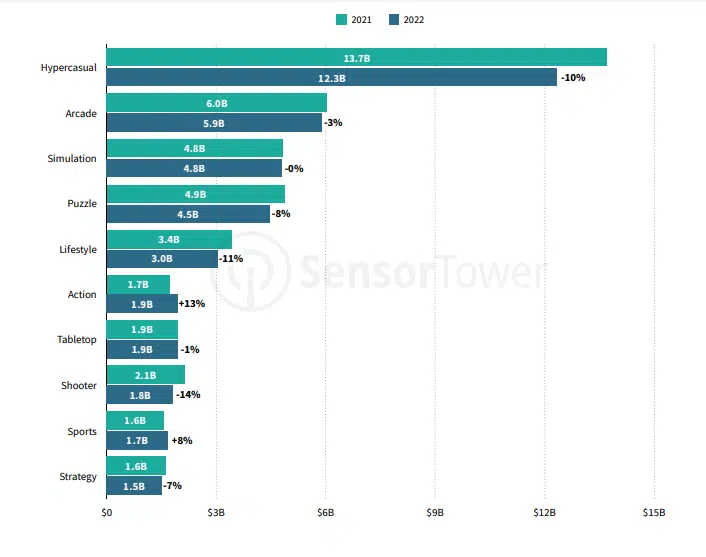 Source: Sensor Tower
Interestingly, Action game downloads jumped 13% to 1.9 billion on the back of successful titles like Shooter.io and School Party Craft. 
Users want exclusive content
But it's not all doom and gloom. The so-called hybridcasual genre, combining hypercasual gameplay with midcore and casual game retention and monetisation tools, grew 13% in 2022. 
The genre saw a total of 5.1 billion downloads and revenues reached $1.4 billion. 
Hybridcasual is in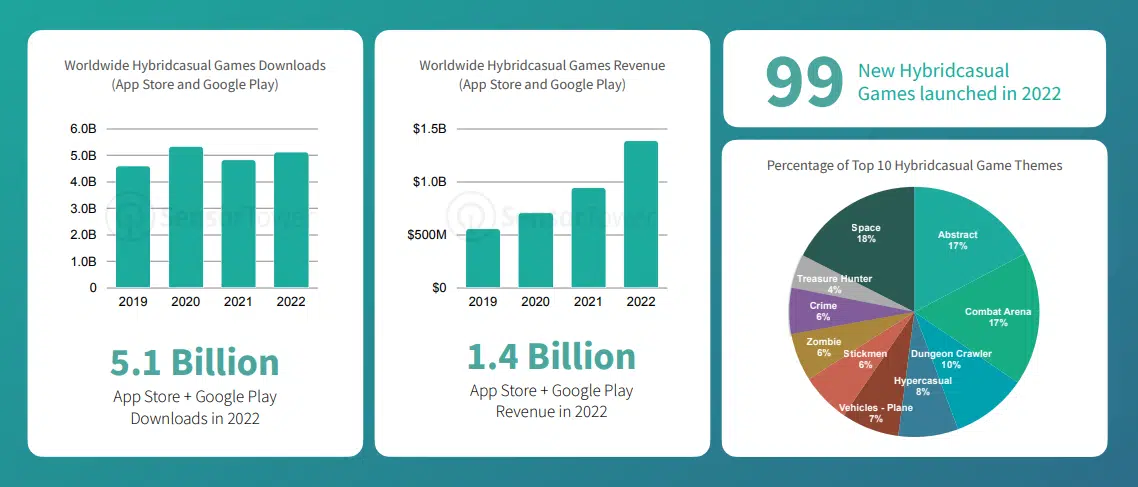 Source: Sensor Tower
But if Netflix's expansion into games is anything to go by, it seems some users are increasingly enjoying more exclusive access games. Downloads from Netflix subscribers were up 54%, generating 24.6 million total installs. 
Source: Sensor Tower
It would suggest there's still room to grow or perhaps refocus your traditional hypercasual games.
Key takeaways
Downloads of hypercasual games dropped 24% year-on-year to 2.7 billion in Q4 2022
Total downloads were down 10% from 13.7 billion in 2021
Hybridcasual titles grew 13%