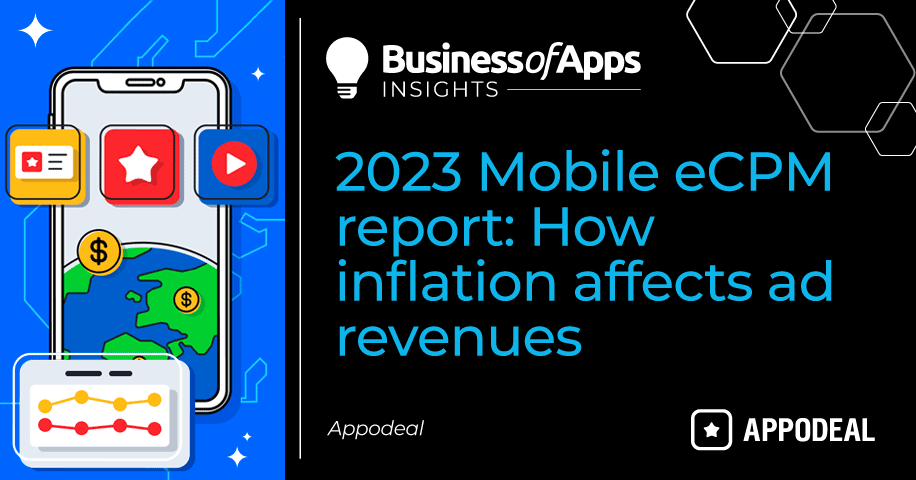 New research from the growth platform for mobile app and game studios Appodeal shows some of the most relevant trends for mobile app publishers and advertisers for 2023.
The recently released yearly mobile eCPM report provides new eCPM data on rewarded videos, interstitials, and banner ads on both iOS & Android platforms. Get valuable insights into all countries of the world, giving a special focus on the top 18 countries for mature and emerging markets.
This post was first published on appodeal.com.
"The biggest takeaway is that​ ​leveraging seasonality is a powerful tactic to grow your revenue. To keep the momentum publishers need enough flexibility to target different markets, including abilities to test new hypotheses quickly, add or remove ad networks and hop on the opportunities that short-term bring the best value. We found that by getting seasonality right, apps and games can easily make up to a 20% increase," says Tanya Moroz, General Manager of mediation at Appodeal Stack.
No fortune teller can promise cash in this economy, but if there was ever a time to try a new ad format, geo, or audience segments, if you have not already, now is the time.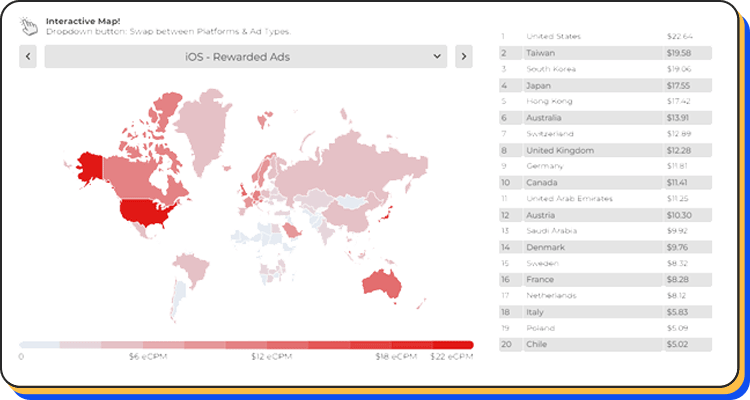 5 Key findings from our mobile eCPM report 2023
Inflation has risen across global markets. With less purchasing power, users may interact more with rewarded ads.

Privacy changes & restrictions to data granularity have caused a notable impact on the ARPU in recent years.

For rewarded ads, US and Canada have the highest eCPM in January, March, and December. Japan and Germany show fluctuations in eCPM values throughout the year.

South Korea, the Philippines, and other emerging countries have increased their revenue metrics on Rewarded Ads & Interstitials.

eCPMs in specific eastern-European countries have been less affected by the economic conjuncture, compared to their Western counterpart.
US tops the eCPM charts in rewarded video ads
We can observe rewarded video ads going through several fluctuations throughout the year, as revealed in the data. In January, the United States has the highest eCPM value for both iOS and Android devices, closely followed by Canada. In March, Australia takes the lead for iOS devices, while Canada has the highest eCPM value for Android devices. By December, the United States once again has the highest eCPM value for both iOS and Android devices.
The data also shows that France, Germany, and Japan tend to have lower eCPM values compared to the top-performing countries. However, there are some fluctuations throughout the year, as Japan has the highest eCPM value for Android devices in March, while Germany takes the lead for iOS devices. In October, Taiwan has the highest eCPM for rewarded video ads on iOS devices, while South Korea takes the lead for Android devices.
The data also reveals some peaks and dips in the rewarded video ad eCPMs throughout the year. For example, in April, Australia has a particularly high eCPM value for iOS devices, while Germany has a particularly low eCPM value for iOS devices in the same month. However, in December the tables turn for Germany, which has the highest peak in rewarded video ads.
Australia tops the eCPMs charts in mobile full-screen ads
Appodeal's eCPM Report also shows interesting data for Interstitial Ads. 
Australia showed the highest average eCPM in May for iOS, at $11.68. This was followed by South Korea in October with an eCPM of $14.36. On the other hand, France had the lowest average eCPM throughout the year, at only $4.44 in March.
For Android eCPMs, Canada showed the highest average eCPM in May at $10.69. Meanwhile, Taiwan showed the lowest average eCPM in July at only $7.29.
Interestingly, while some countries showed consistent trends throughout the year, such as Japan and Germany with relatively stable eCPMs, other countries experienced significant fluctuations. For example, the United Kingdom showed a peak in eCPMs in April and then experienced a sharp decline in June.
It is also worth noting that there were differences in eCPMs between iOS and Android devices. Overall, iOS devices showed higher eCPMs than Android devices throughout the year in all countries.
Banner eCPM in mature countries is consistently high
One trend that stands out is the consistently high eCPMs for iOS devices in Japan throughout the year, reaching a peak of $0.26 in March. In contrast, France and the United Kingdom had lower eCPMs for iOS devices, with a peak of only $0.15 in France and $0.18 in the United Kingdom.
For Android devices, there was a notable peak in eCPMs for Japan in March, reaching a high of $0.47. Canada and the United States also had high eCPMs for Android devices, with both reaching a peak of $0.62 in June. However, the United Kingdom consistently had lower eCPMs for Android devices, with a peak of only $0.29.
Australia showed consistent eCPM trends for both iOS and Android devices, with only slight variations throughout the year. Taiwan and South Korea also had similar eCPM trends for both devices, but with slightly higher peaks for iOS in Taiwan and Android in South Korea.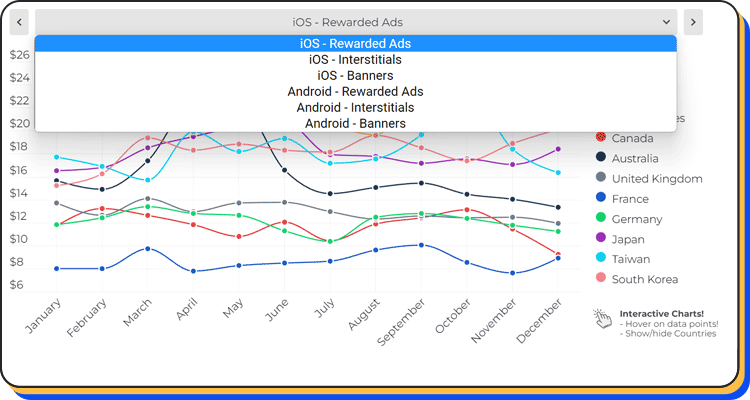 The mobile eCPM report by Appodeal
To help app and game studios boost their monetization strategy during 2023, Appodeal is releasing for the first time the Yearly eCPM Mobile In-app Ad Report, which brings you a complete month-by-month analysis, with the latest eCPM data.
Now that inflation has risen across all global markets, users with less purchasing power may interact more with rewarded ads.  Discover which ad types are bringing the highest eCPMs per country. Then, narrow down your analysis to the platform of choice within your target audience. 
For this first edition of the Mobile eCPM Report, Appodeal has analyzed 18 different countries to give you more accurate data: Australia, Brazil, Canada, France, Germany, India, Japan, Mexico, Philippines, Poland, Russia, Saudi Arabia, South Africa, South Korea, Taiwan, Turkey, The United Kingdom, and The United States.
A breakdown report to learn how the eCPM Trends perform throughout the previous year, including:
18 countries — From all continents (except Antarctica).

3 Ad Formats — Rewarded Video, Interstitial & Banners.

2 Platforms — iOS & Android.

+200 Billion Ad Impressions — +100,000 Apps & +70 Ad Demand Sources

Interactive Infographics — Navigate through the data that matters to you the most
This wide variety of countries will allow you to identify eCPM trends for countries with similar user behaviors. Once you have detected which country resembles your audience more, it will be easier for you to create sound strategies for 2023.
Find out in the original report which markets will most likely bring you growth this 2023.